For Sale Page
Looking for that Special Horse? Do You Have A Special Horse You Want To Sell? Listing is free, send me an e-mail with all the details. Click Here
---
Buckskin Baby Sitter Mare Price $3,000 See Primary Page For Details and Photo'sYou can also see the mares on the Brood Mare Page.

---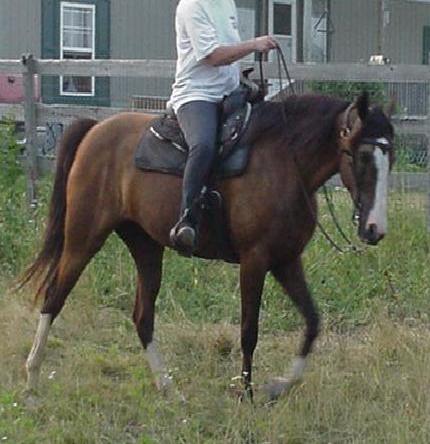 Symbol's Replica(Rep) Rep is 15H black and white sabino Shakers Shocker grand daughter ,make sure you check her out trailers, clips, is a sweet heart on the trails, goes through water, she is good with her feet, she is good around children and animals, and her gait is flawless! she is gentle, quiet, very responsive, just likes to be riden infront, she is HEALTHY and safe in foal for 2002! Price: $3500. Phone number: (517) 263-1267 - ask for Niki. Location: Adrian, Michigan. Email: nolive@tc3net.com

---
For Sale:8 Y.O.TWH gelding

Nevada is 15.2 hands. Perfect gait, good on the trail, he's a real lover. No vices Current neg. coggins and shots for this year.Teeth ok Located in Michigan. $3500. More photos and papers
nolive@tc3net.com
---
Registered SSH Black & White Tobiano mare see Primary Page
Registered Tri Colored SSH filly See Primary Page
Contact "Niki Oliver" nolive@tc3net.com

---
Horse Transport Inc. Bill Egbert 1-800-426-0862
Please address any comments to: nolive@tc3net.com
Check back often as I get new pictures up!
* Nursery / *About Us / *Boarding Horses / *Brood Mares / *Hist&Gaits / *For Sale &Wanted / *Pony Pals / *Trail Show / *Trails& Camps / *Training / *Gaiting? / *Choosing Trailers / *Ugly Horse? / *Horse's Prayer / *Cowboy Poem / *My Personel Links Page / *E-Mail Horse Cards / *Horse Facts / *Horse Puzzels / *Rescue Story / *Horse Games & Puzzles / *Famous Walking Horses / *First Aide / *Medical / *Water Needs / *Health / *Caring / *Children&Horses / *Barging Horse? / *Accidentproof / *Foals / *Catching Your Horse / *Tack For Sale / *Training Links / *Upper Michigan Trail Riding!! / *Return to Home Page